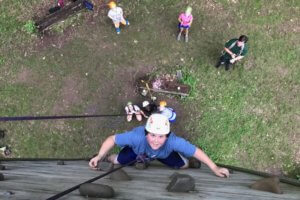 Kirchenwald can provide a wide variety of experiences. Kirchenwald is open year-round and has a variety of lodging options ranging from comfortable retreat lodges, to Adirondack shelters, to tenting sites.
These staff-lead programs are available by reservation:
Low ropes and group building initiatives
High ropes, climbing tower, zip line
Swimming pool
Canoe on/off site
Rock climbing off site
Archery
Mountain biking on/off site
Hiking on site
Cross-Country Skiing
Escape Room
Kirchenwald has all the equipment to outfit groups up to about 25 for most of the activities we offer.