Nawakwa is located outside Arendtsville, Adams County, Pennsylvania. Wear a Nawakwa sweatshirt and you're sure to run into someone who's been there. That's because Nawakwa has been an outdoor gathering place for Lutherans since 1929. We are proud of that history, and seek to preserve well-loved traditions as well as look ahead to new ways of sharing the Word. Our 336 wooded acres provide hiking opportunities, outdoor chapels, playing fields, volleyball and basketball courts, ropes course and a swimming pool.
The Summer at Nawakwa…

Every week at Nawakwa (weather permitting) begins and ends with worship at one of our beautiful outdoor worship areas; Upper Temple, Fischer Chapel or Bishop Chapel. Community living takes place everyday through Bible Study, worship, recreation, crafts, and nature study. Our caring staff is here to guide children as they explore God's creation and their relationship in it. Campers are given the opportunity to choose how part of their week will go. Being part of a Lutheran Christian community has helped many campers grow – in their personal faith, in their self-confidence, and in their interactions with others. Where else can children be given all this–and still have them call it their favorite week of the summer?
Year-round at Nawakwa…
In addition to summer camp, Nawakwa offers programs in the Spring, Winter and Fall. Check out our upcoming events page. Nawakwa's facilities are also available throughout the year for rental use for your next event.
Nawakwa is accredited by the American Camp Association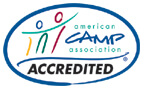 ACA accreditation means that Nawakwa complies with research-based standards in camp operation – including staff qualifications and training, water safety procedures, food services, health care, operational practices and emergency management.
​ACA's nationally-recognized standards program focuses primarily on the program quality, health and safety aspects of a camp's operation. Accreditation indicates total commitment to health and safety and the highest quality experience for its campers and staff.
​Visit the American Camp Association website to learn more about accreditation.