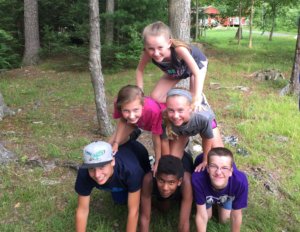 We believe that no one should be prevented from attending camp at Kirchenwald or Nawakwa based on their ability to pay. This is one of the things that sets us apart from other summer camp opportunities.
Because of the strong financial support of our donors and friends, the Lutheran Camping Corporation has always subsidized the cost of camp for everyone. The high quality outdoor ministry experiences offered at Kirchenwald and Nawakwa incur expenses related to food and utilities, permitting and equipment, insurance, maintenance, staff salaries, and more. Our history of subsidizing the registration cost – and our generous Campership program – has enabled campers from a broad economic spectrum to live together in Christian community in our unique settings.
Camp families have differing abilities to pay. Since you know your family's financial situation better than we do, we're introducing a voluntary three-tier pricing structure in which you self-select the rate you can afford!
How much does this great experience really cost?
Multiple payment tiers illustrate the true costs at Kirchenwald and Nawakwa. Please consider selecting the highest level you can afford, knowing that, in doing so, you are enabling others to participate as well – and our communities benefit from greater diversity.
Tier 1: Most closely reflects the "true cost" of camp.
Tier 2: Partially subsidized for families needing some support to make camp affordable.
Tier 3: Subsidized rate, supported through contributions from individuals and congregations.
PLEASE REMEMBER: All campers receive the same high quality camp experience regardless of payment tier chosen. Your selection is completely confidential.
---
We also offer full and partial Camperships to all families who need them. Apply for a Campership using our Campership Application. We never turn campers away!