---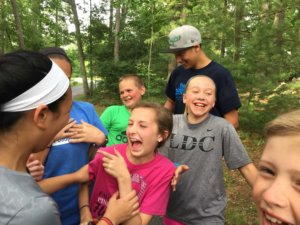 Lutheran Church Camping in Central Pennsylvania is an extension of the congregation's ministry in the unique setting that our camps provide. Children, youth, and adults learn, worship, witness, and serve within a Christ-centered Lutheran tradition.
All Children are welcome to attend Camps Kirchenwald and Nawakwa, regardless of race, creed, religion or color.
Children with special needs can participate in many of our programs. Camp staff need to know the nature of the child's special needs before arrival in camp. Please contact the camp of your choice for further information.
Camp Week: Each camp week begins Sunday with check-in between the hours of 3:00 and 4:30pm. Early check-in is not possible. Parents may pick up their children on Saturday morning between 9:00 and 9:30am.
Day Camps run from 9:00am to 4:00pm Monday through Friday.
Mini Camp weeks start at 3:00pm (Sunday or Wednesday) . Parents may pick up their children at 9:00am (Wednesday or Saturday)
Age Groups are based on grade completed (or will complete) in Spring 2023. Groups are:
Explorers (completed grades K – 2)
Juniors (completed grades 3 – 6)
Intermediates (completed grades 6 – 9)
Senior Highs (completed grades 9 – 11)