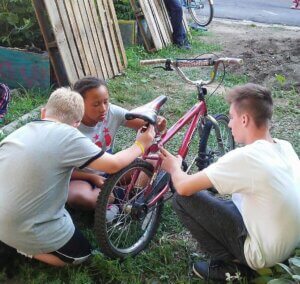 The Diaconos program at Kirchenwald is designed for youth groups to custom-plan a week filled with a combination of service opportunities and adventure outings. With the Diaconos staff, you can schedule a week that perfectly fits the needs and abilities of your group. Service sites in the community engage you and your group in physically expressing the ministry of Christ. This program also offers the chance to interact with the people you serve and with one another, sharing the good news and growing in spirit to the glory of God. We also recognize the importance of social and spiritual development through group dynamics and encourage you to make adventure/recreation programs part of your Diaconos experience. These adventure opportunities will challenge your group to work together and overcome obstacles, while enjoying some of the exciting outdoor activities available.
General Information:
Arrival: The typical Diaconos week starts on Sunday afternoon. Registration is held between 3:30 and 4:00pm. Sunday evenings are the time to get settled in and prepared for an exciting week ahead.
Departure: Have your things packed and ready to go for a 10:00am departure on Saturday. A Diaconos week runs in sync with other Kirchenwald programs, so arrival and departure times will coincide.
Group Size: Our site can accommodate groups up to 18 people (including adult chaperones). If your group is larger than 18, let us know and we will work to obtain appropriate housing for your size.
Registration Deadline: Please complete your agreement and send it to The Lutheran Camping Corporation, along with your payment, by April 10th to ensure your participation in the Diaconos program. Your final registration numbers must be communicated to Kirchenwald 10 days prior to your arrival. This ensures that your accommodations will be prepared and that an appropriate amount of food has been ordered for the week.
Ready to learn more? Contact Zach Weiss today!