Adults who attended church camp as youth are more than three times as likely to remain affiliated with a religious community than those who never attended camp.
From a 2014 survey conducted by Jacob Sorenson for "The Confirmation Project"
We live in a world of choices and opportunities. Everyday, we make decisions about how to spend our time and money so that we receive the greatest benefit… to get the biggest bang for our buck. And our culture tells us that we need to do everything we can to get ahead.
We also live in a world that is rapidly changing. Entertainment and social media have a greater impact on our decision-making than ever before. Ours is a world that requires strength of character and self-assurance.
At the Lutheran Camping Corporation, we understand that you want the very best for your children and grandchildren, and we believe that the outdoor ministry programs at Kirchenwald and Nawakwa offer THE VERY BEST.
Our campers practice living a faithful life in a non-threatening environment.
Our campers practice living as Jesus intends us to live, in a community of people striving to do the same.
Our campers have opportunities for quiet, individual devotion as well as dynamic, participatory worship.
Our campers are given safe spaces to discuss faith topics with peers and mentors.
Our campers learn how to be disciples – followers of Jesus – eager to proclaim the Gospel and serve others.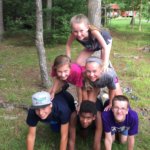 This is faith formation… and it takes place within the setting of an outdoor community that seeks to build character, foster independence, encourage good relationships, and teach life skills… benefits that campers will carry with them for the rest of their lives.
That's a pretty big bang for your buck!