The Perpetual Auction of the IMAGINE…Campaign Quilt
Starting with the Fourth Annual Quilt Auction, we have been auctioning off positions for people's names to be embroidered on the back of the IMAGINE…Capital Campaign Quilt as donors to the Lutheran Camping Corporation's (LCC) Endowment Fund.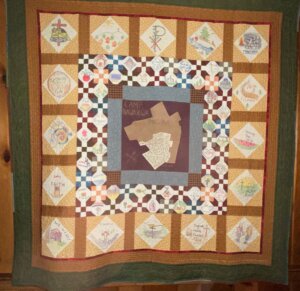 This unique quilt was made-to-order for the Steering Committee of the IMAGINE…Capital Campaign in order to draw attention to the Capital Campaign related to the December 31, 2007 purchase of an additional 220 acres adjacent to the original Nawakwa site of 115 acres. This beautiful quilt was designed and lovingly pieced together by Rebecca Enney of Camp Hill, Pennsylvania, using squares that were drawn by volunteer artists. These completely individual renderings were done by a variety of enthusiasts who have been campers and/or staff at either Kirchenwald or Nawakwa over the years. The individual squares illustrating camp scenes and activities were painted at the November 2007 Celebration of Outdoor Ministries held at the pavilion in Nawakwa's Upper Camp.
Mrs. Enney then created a large center square depicting the original Nawakwa outline supplemented by the newly acquired acreage. Once she had assembled the quilt, she also stitched the goal of outdoor ministry, that "the Church is strengthened", along the bottom border on the right hand side. In the past years, the quilt has been displayed and admired in the Zinn-Tozer lobby at Nawakwa.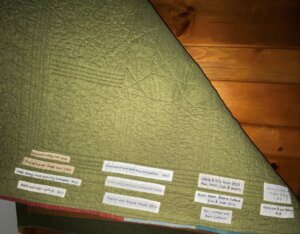 As we imagine the benefits that will come to the church as a result of having the new opportunities for programming and any future facilities, we are aware that we will also incur additional expenses in terms of upkeep and maintenance. With this in mind, we want to tie together (pun intended) the Annual Quilt Auction that benefits the LCC's Endowment Fund with the IMAGINE…Campaign quilt.
In 2028, we will celebrate the 100th anniversary of The Lutheran Camping Corporation of Central Pennsylvania. In anticipation of that milestone, we began in 2008 to auction the IMAGINE…Campaign Quilt over and over again (with a minimum bid of $250.00 this year) over the next twenty years. Our goal will be to have added a minimum of $10,000 to the Endowment Fund by our 100th Anniversary. The IMAGINE…Campaign Quilt will be retired at that point and go on permanent display, as a tribute to those who have contributed to the LCC Endowment Fund in this unique manner.
Bid on the Imagine Quilt today! The Online Auction ends on November 3 at 12 noon. You can bid in person at Nawakwa on November 6.