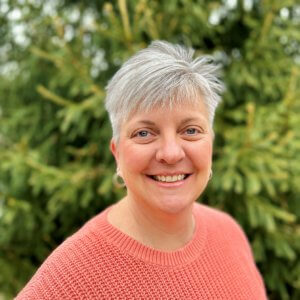 Lesli Willoughby graduated from Pennsylvania College of Technology with associate degrees in Hospitality Management and Culinary Arts. She has held various roles at WellSpan Health, including Dining Services Supervisor and Manager of Gift Shop Operations. She most recently worked as a policy holder services representative for Basile Insurance Agency, LLC.
Lesli is married to Lori and they have four children – Laura, Cody, Robert, and Sarah – as well as five grandchildren and three dogs named Quinn, Luna, and Nala. She resides in York, PA, and attends Advent Lutheran Church where she serves as the Sr High Youth Director.
Outside of work and church, Lesli enjoys hobbies such as bowling, hiking, camping, and spending time with her family. As a child, she attended Nawakwa from 3rd grade through 12th grade and also cooked for the Lutheran Youth Organization retreats for many years in the Nawakwa kitchen.