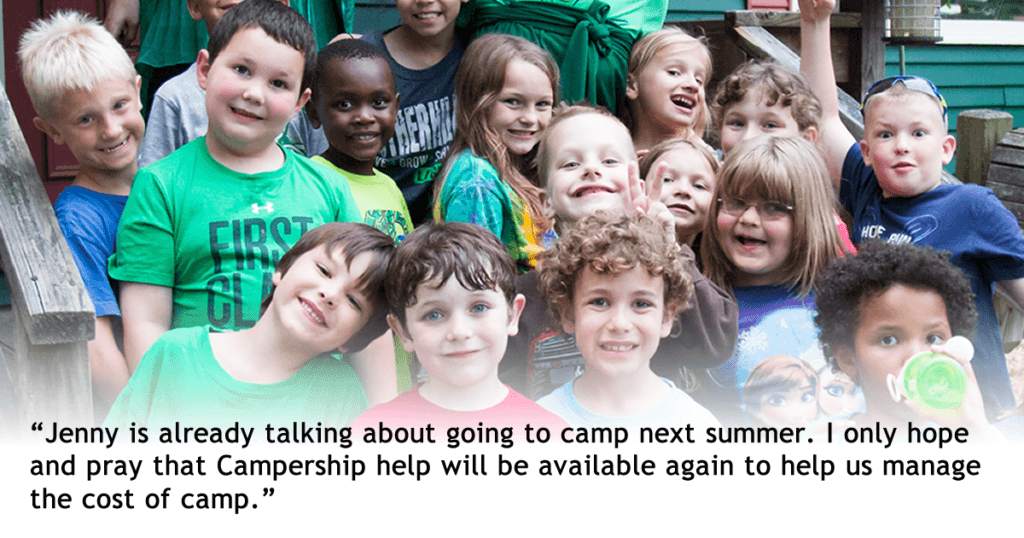 ---
A mother sent this note along with her daughter's camper survey after her week at camp last summer.
"Jenny is already talking about going to camp next summer. I only hope and pray that Campership help will be available again to help us manage the cost of camp."
Her comment caught my attention. I was thankful that Campership help was available so that Jenny was able to attend camp despite her family's financial hardship. I was also struck by her mother's sincere and hopeful statement about Jenny attending camp this summer. Finally, I was confident her mother's hopes would be realized again thanks to generous Campership donors. I'm pleased to report that, yes, Jenny will be attending camp again this summer thanks to again receiving the needed Campership help.
Jenny is one of many of children each summer who are able to come to camp thanks to our Campership program. They experience a week of Christ-centered camp because of the generosity of caring donors who faithfully give Campership gifts to support the ministries at Kirchenwald and Nawakwa.
We are now receiving registrations at Kirchenwald and Nawakwa for this summer, some coming with requests for financial help. Some parents and pastors call to see if they should even bother to send the registration because they're uncertain if assistance will be available. When I get those calls, I am pleased to tell them, "Yes, send in the registration with the request for Campership assistance," trusting that the generosity of folks like you will provide the gifts needed.
Last year more than $23,000 in Camperships were provided. I expect that we may need more than that to meet this year's requests.
Please consider a making Campership gift now, as the start of camp nears. A gift of $495 will pay for a full week for a child, a gift of $275 covers half a week, and a gift of $82 pays for one full day. Of course, any amount you send will help if you send it soon so that I can continue to be confident in responding to every request.
I'm looking forward to summer and to your Campership donation so that every child who wants to come to camp will be able to, thanks to many generous gifts.
Michael Youse
Executive Director